© Elements Entertainment GmbH • Fotograf: Alexander Böhle
© Elements Entertainment GmbH • Fotograf: Alexander Böhle
© Elements Entertainment GmbH • Fotograf: Alexander Böhle
© Elements Entertainment GmbH • Fotograf: Alexander Böhle
© Elements Entertainment GmbH • Fotograf: Alexander Böhle
On June 3rd and 4th four teams fought for the title of the Handball Champions League 2017 in the Lanxess Arena in Cologne. A major sporting event known for its' spectacular opening shows. Some 40 000 spectators came to the arena to watch the semi-final and final, but also to experience the opening shows.

Elements Entertainment, long-time producer of the opening shows, commissioned PRG for the detailed planning and execution of rigging-, lighting- and video-technology. In addition, a spectacular Circle LED screen as well as wireless LED Dollies were to be engineered and delivered.

The schedule for the set-up of the event was just as sporty as the matches. Besides the rigging and lighting system, the PRG team only had 12 hours to set up a 7,20m high circular LED Wall suspended from the ceiling of the venue. On June 1st, the PRG team moved in with 50 technicians to master this technical challenge. The customized LED-circle consisted of 864 ROE MC-12 tiles, straight from our PRG stock. With a diameter of 14m and a circumference of 42m, the 300m2 LED-wall crowned the field of play.

For the grand opening show PRG integrated its' engineering and design department PRG Projects, who customized 24 wheeled wireless LED-Dollies for the opening show, of which 16 standing (1m20 wide x 2m40 high) and 8 LED-Dolly tables (1m20 deep x 2m40 wide). Each of these LED-Dollies were are fitted with ROE MC7 modules with a pixel pitch of 7mm, battery powered and fed with live-video-content through a wireless connection.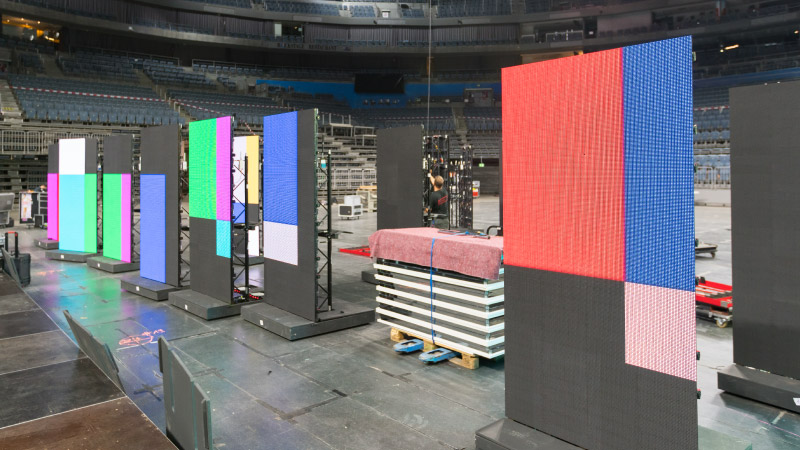 Furthermore, 50 Hex Panels were used for the opening show. The Hex Panels were also developed by PRG Projects, are battery powered with a wireless receiver. The content was pre-loaded on the panels and piloted via timecode.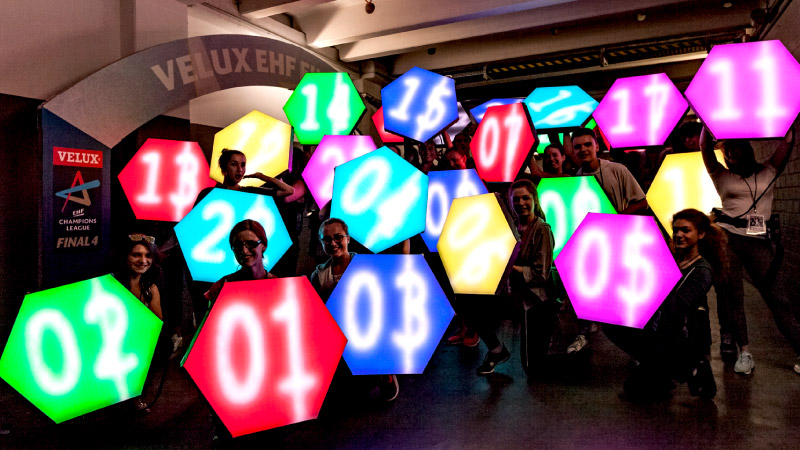 Image: © Elements Entertainment GmbH • Fotograf: Alexander Böhle

The LED-Dollies and the Hex Panels were the highlight of the opening ceremony and part oft he choreography created for the Velux EHF Final4. The artists performed together with the technology and thus carried out an extraordinary show in which technology was the main focus.

The PRG-team faced several challenges which they mastered perfectly. In addition to the static calculation of the circle LED-wall, they also had to manage frequency issues of the wireless connections for the Hex Panels and the LED-Dollies. PRG Account Manager Simon Rist heaves a sigh of relief after the production and finds words of praise for his team:

"We are present here with a top level crew, which prepared the production well in advance. The material was checked and prepped extensively in our warehouse in order to meet the short set-up schedule, offering us stability and security on-site and allowing us to deliver our customer this secure set-up!"

Patrick Zöllner, Project Manager, Elements Entertainment, is equally delighted about this excellent collaboration:

" Due to the complexity and special requirements, we chose the PRG and PRG Projects colleagues. Both, the implementation and the cooperation were very professional and absolutely impeccable. I can only thank you again and again for all your efforts!"